When buying house keys, especially designer house keys, the main thing you need to keep in mind is the type of key that you want to duplicate. There are many different types of house keys, don't make the mistake of buying the wrong type. The most common types are KW1 (Kwikset), SC1 (Schlage) and WR5(Weiser).
Key blanks can be correctly identified in one of 3 ways:
First, a key blank may be identified by the shape of the head of the key. The shape of the head is an invaluable aid in identifying a key blank, but it is not a guarantee of a match. See Figure: Key Type.
Second, a key blank may be identified by the alpha-numeric code found on the key head. See Figure: Key Type.
Third, all else fails, ask a local locksmith.
Interchangeable key types:
KW1 = 66
KW10 = 97
KW1 = KW = KW10
SC1 = 68
Note: KW1 is a 5 pin blank KW11 is a 6 pin blank. KW11 will work in place of a KW1 but not vice versa. The KW11 is usually used in Titan locks.
There are a variety of different keys used throughout the world. We carry two of the most common types, Kwikset & Schlage, right here at Hero's Armory. It's very likely that your key is one of these two, though occasionally, a different type is used, especially outside of the United States. There are few differences between these types of keys, but they are not interchangeable. In the end, it comes down to whatever locks were installed on your door when it was installed.
Use the following guides to help you determine which type of key you need to order. While the three methods below are generally fine for determining your type of key, you may feel overwhelmed or have questions regarding your key type. Please don't hesitate to Contact Us if you have questions!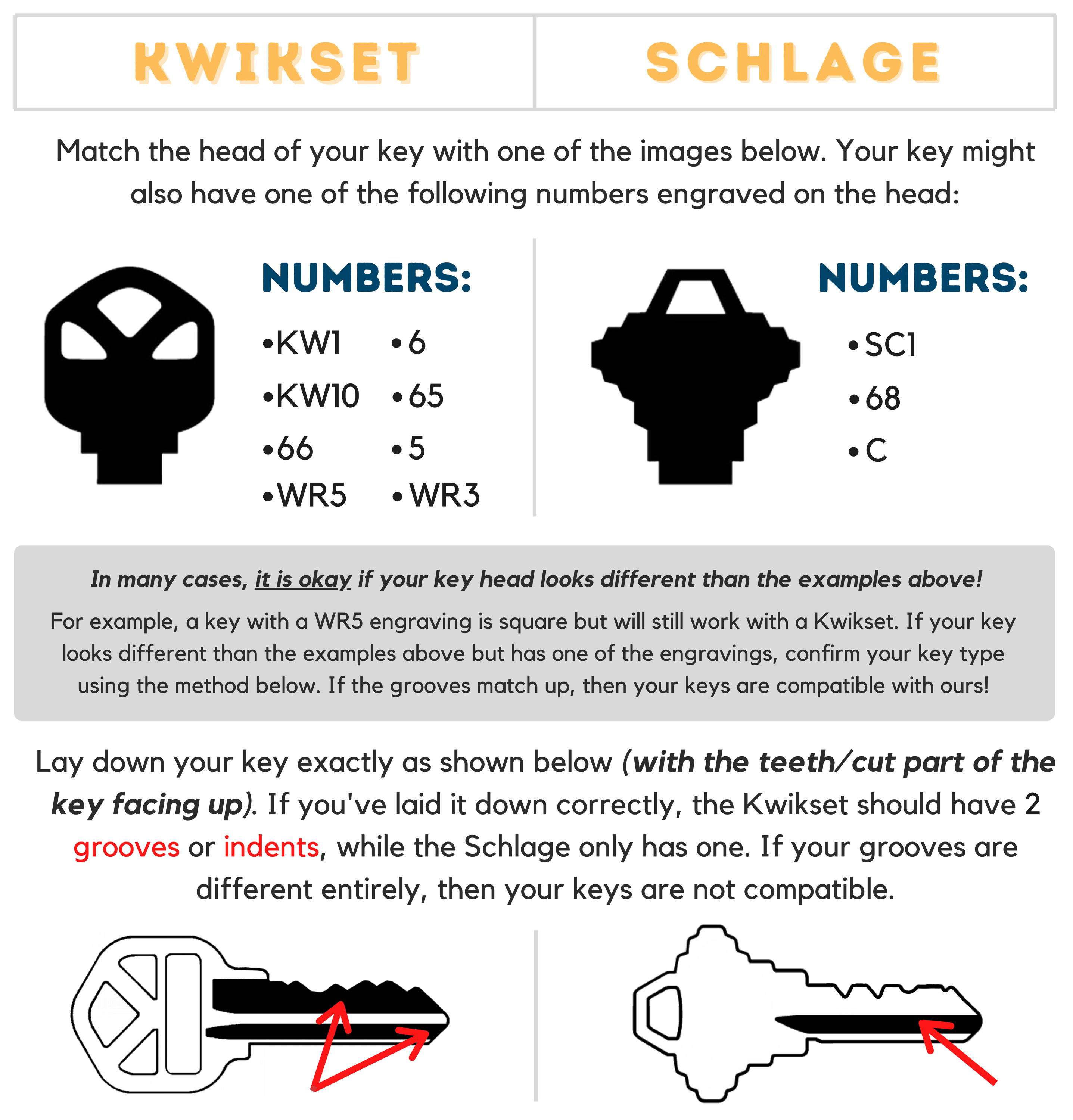 KW1 is the second most common house key in North America. Keyport uses top quality key blanks from such manufacturers as Ilco, Silca, and JMA for all of its key blanks and Keyport Key Blade blanks.
INSTRUCTIONS FOR ORDERING NEW BLADES:
There are tens of thousands of different key blanks out there. But no worries, you don't need any knowledge of key types to order the Blades you need. Our key experts will ensure you get the correct Blades when you submit a picture of your keys on the Key ID Form. Simply order Standard Blades for all your different keys including high-security, home, lock, office, auto, moto, etc.
KW1 - Kwikset Key Blade

Cross References:
Keyport: KW1
Ilco EZ: KW1
Ilco: 1176
Axxess: 66
Cole: KW1
JMA: KW1-1K
Silca: KS1
Dominion: H176
ESP: KW1
Hillman: KW1
HY-KO: KW1
Jet: KW1